| | |
| --- | --- |
| Name: | Patrick Stox |
| Title: | Product Advisor, Technical SEO, and Brand Ambassador at Ahrefs |
| Location: | Raleigh, North Carolina, USA |
| Remote Since: | 2006 |
Patrick's remote work setup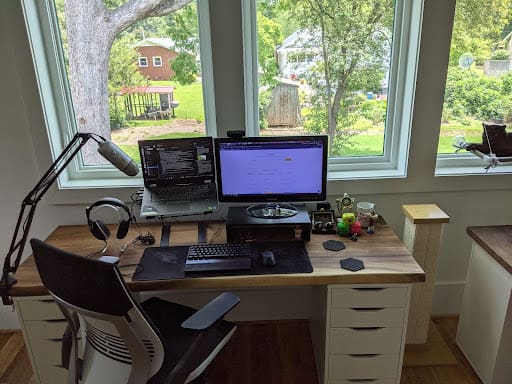 An Acacia wood live edge countertop from Home Depot on Ikea Alex drawer units
It has plenty of storage space and it's solid and looks good (in my opinion).
Samsung SyncMaster XL2370 monitor
Just an old monitor I still use. My desk isn't deep so I don't need a bigger monitor.
Logitech C920 webcam
I picked this up when I used to livestream video games. It works well and the quality is good.
A custom wrist rest that matches my keyboard exactly that I commissioned a guy on /r/mechmarket to make
It looks good and keeps me from resting my wrists on the table. I have pretty bad typing habits.
I couldn't work from home without…
Coffee.
I'm a bit of a connoisseur with it, but I'm also lazy. I have a fancy Hario pour over set up, a Bonavita electric kettle, and a Baratza burr grinder I'll use to fresh-grind coffee and everything… but then, you know, that takes time.
So, half the time I'm just using pre-bagged drip coffee (my wife is Columbian though, so even that's always fresh Colombian coffee like Sello Rojo).
The purchase of $100 or less that's improved my work from home experience the most is…
The DJ stand I use to get my monitor up to eye level.
When you've worked from home for as long as I have, it's all about comfort. I sit on my butt for a living – I don't need to be breaking my neck to see my monitor at weird angles or anything.
I also have a cat hammock on the window that stops the cats from coming and laying on my keyboard (for the most part).
My one piece of advice to someone who's new to working from home is…
Stick to a schedule, whether that's nine to five or whatever hours you decide to set.
If I have an errand to run during the day that takes up an hour, I make sure to work another hour later in the day. That way the schedule is maintained, things get done, and there's some structure to the day.
And that works the other way, too. I shut the laptop down and stop my main work at a certain time every day, otherwise it just gets out of control.
Since you don't have a commute when you work from home, you have to find a way to disconnect, otherwise you just keep going. During Covid, my wife and I started going for walks when work was over to give us that disconnect you need from work when your office is your home.
One thing I wish I'd known before I started working from home is…
I don't think a lot of people realize that it can get really lonely when you're working from home by yourself – especially if you don't have a lot of meetings.
So, it's good to have somewhere to go, whether that's a coffee shop or a co-working space or a friend's house. I've also had periods where I've gone into an office, because every few years I just get that itch where I need to be around people before I forget how to talk to people.
When Covid hit, I realized after a few months that I really missed the monthly marketing meetups here in Raleigh – the Raleigh SEO Meetup, Beer and SEO, and Triangle Marketing Club. That's only three nights a month, but without that social connection I really missed talking to people, even though I've been remote for a long time.
My best strategy for maintaining a healthy work-life balance is…
Set clear boundaries.
At 5pm or 6pm (depending on when I start), I end my day and get away from my laptop a bit by going for a walk and cooking some dinner.
For me, 9pm is around when a lot of my colleagues are starting their day, so I'll answer any quick questions that come in around then on my phone. But anything that would take more than a minute to respond to I leave until the next day.
My best strategy for staying productive working from home is…
Realizing that you can't be productive all day.
It doesn't really matter what your job is – your energy and concentration levels are going to come and go in waves.
So, you might spend five minutes here and there reading or something, and that's fine. It's okay to take a five minute break every now and then, so be sure to give yourself permission to do that.
The one piece of advice I'd give to a people manager leading a remote team is…
Relax.
In my opinion, as long as people are getting their work done in a timely manner and the work is quality, just chill out and let them get on with things.
You have project management systems, you have Slack, and a lot of the communication that happens in an office is also generally happening online now since the pandemic. So, I don't think you have to be super on top of people unless that person has shown that you need to be super on top of them.