| | |
| --- | --- |
| Name: | Tim Soulo |
| Title: | CMO at Ahrefs |
| Location: | Singapore |
| Remote Since: | 2020 |
Tim's remote work setup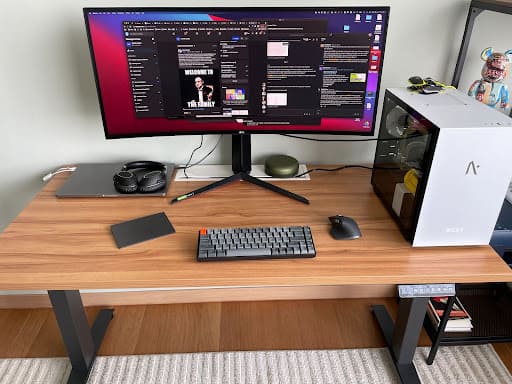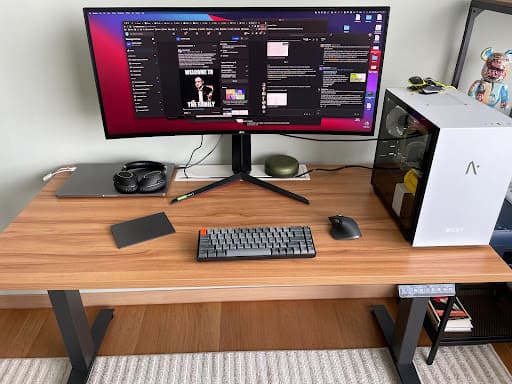 I couldn't work from home without…
Good noise-canceling headphones. 
I find that being able to block out any noise and disconnect from your surroundings is very important when you're working from home.
The purchase of $100 or less that's improved my work from home experience the most is…
My Logitech MX Master 3 mouse. I really like that it indefinitely scrolls from a single spin of the mouse. So if you need to scroll down to the bottom of a long page to check out the author of an article, for example, it gets you there really quick.
The Apple Magic Trackpad definitely deserves an honourable mention as well. I often need to review designs, and it's just so much more convenient to use finger gestures to do that than clicking a mouse.
My one piece of advice to someone who's new to working from home is…
I don't think I'm an expert at working from home. But one thing that I've figured out is that it's better to keep your laptop on your work table and not take it with you to the couch or to the balcony or whatever. This helps draw a line between your work time and leisure time.
If you want to browse the internet outside of work, I'd recommend using an iPad or phone in another room. Take your computer and you'll inevitably end up answering questions on Slack. And that might affect your overall productivity, because if you spend too much time working today, tomorrow you might not be as productive, and that's when your team really needs you.
One thing I wish I'd known before I started working from home is…
It's harder to retain a work-life balance, because you can work all the time.
And at the same time, it's so easy to get distracted, because you don't have that clear boundary between your work and leisure time.
If you want to take a nap during the day, you can do it – while in the office you can't. So it's kind of good. But then again, you can go lazy and take two hours off work in the middle of the day, and then it's not easy to get back to work.
So, it's harder to maintain the boundaries between leisure and work. And I think this is a universal struggle with working from home.
My best strategy for maintaining a healthy work-life balance is…
I think it's very important to explain to the people that you live with – your kids, your wife, your frat house neighbors, whoever – that they have to respect your work time.
Because it might seem to them that coming in for a second and asking you a simple question like "what do you want for dinner today?" isn't taking a toll on your productivity. But it is, because when you're deep in a task, that pulls you out of the zone – and t takes time to get back into it.
It's really hard to be productive if you're getting distracted every twenty minutes by the people you live with, delivery drivers at the door, and phone calls.
So it's very important, first of all, to eliminate all possible distractions. This is why I'm a fan of noise canceling headphones, why you have to turn off your phone – all the classic stuff, really. 
But then you have to also explain to your kids, your wife, and your relatives that when you're working, they should treat it as if you're not at home. Because when they come up to you and ask you something, that's genuinely taking a toll on your productivity.
My best strategy for staying productive working from home is…
To be very deliberate about drawing a clear line between your work and leisure time.
Leaving your laptop in one place and using it for nothing but work, asking your family not to distract you, and sticking to regular working hours rather than doing things like taking naps during the day all help with this.
The one piece of advice I'd give to a people manager leading a remote team is…
At Ahrefs we have as few meetings as possible because it's a huge pain in a company like ours to get people from different time zones onto a call.
Plus, we let people pick their own hours and work when they're most productive. We don't want to be distracting them with calls and meetings and whatnot during that time.
So, my advice to remote managers is to let people choose their own work hours and keep communication asynchronous rather than imposing fixed meetings your team then needs to plan their whole days around.